Gus Pech History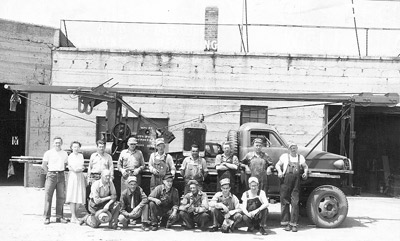 Gus Pech Mfg. Co., Inc. has been manufacturing earth-drilling equipment for over 130 years. Gus Pech Mfg. Co., Inc. opened its doors in Storm Lake, Iowa in 1879 by Gus Pech and later moved to
Le Mars, Iowa, which is now known as "The Ice Cream Capital of the World," to be closer to the railroad system. Gus Pech envisioned providing well-built, affordable earth drilling equipment to his customers. To this day Gus Pech Mfg. Co., Inc. still holds true to that promise. We are known throughout the earth drilling community for "building a rig to fit the driller, not the driller to fit the rig." We do this by building a personal relationship with our customers and getting to know their drilling needs, either it be water or dewatering wells, elevator jack holes, oilfield conductor holes, hazardous waste, recovery, exploration, soil testing, coring, sampling, monitoring, cathodic, geothermal or Roto-Sonic. Together with their input and our engineering, we can provide to you, our customers, your own personalized earth drilling equipment. Along with drilling equipment, we also build our own buckets, (drop bottom, coring, clam/core, plunger, belling buckets and augers) for our Super George bucket drill machines; this also includes the Kelly system and various accessories. Since Gus Pech Mfg. Co., Inc. is a fabrication shop; we do fabricating and machining for construction, agricultural, and personal needs.
With that being said, Gus Pech Mfg. Co., Inc. wants to thank you for your interest in our company, and wishes you a great drilling season and good fortune.
• Gus Pech Founded the Company in 1879
• Gus Pech was born in Germany in 1855 and died January 6, 1900.
• Gus Pech started the company in Storm Lake, IA and then moved to
Le Mars, IA, around 1889 because of the north/south and east/west railroad system.
• W.O. Collins was a salesman for the company.
• His territory was Iowa, Minnesota, North and South Dakota, Montana, Saskatchewan, and Manitoba Canada.
• W.O. Collins later bought half of the interest in the company from Gus Pech's widow Mary and later on she sold the remaining interest to him.
• In 1955, W.O. Collins sold out to his sons Wayne and Robert.
• Robert Collins bought Wayne's portion of the business and it was incorporated in 1965 with Robert Collins as president.
• The company was relocated in a new building in the Le Mars Industrial Area in 1977.
• In 1986, Robert Collins' sons, Cris and Gregg bought the company with Cris Collins as president, and Gregg Collins as vice president.
EQUIPMENT
From 1879 Gus Pech manufactured many models of machines and equipment for drilling holes from 2 inches to 10 feet in diameter and drilling depths 1500 feet by using cast gears, sprockets, chain, clutches, powered by horses, steam and gasoline power units. In 1972 cast gears, sprockets, chain, clutches, etc. were replaced with steel gears, and open hydraulic and closed loop hydrostatic systems. Our equipment is now powered mostly by diesel. Gus Pech Mfg. Co., Inc. has throughout the years designed our rigs to meet the demand of new technologies and types of drilling procedures. We have a wide range of equipment which includes auger/rotary, sonic, geothermal, and dewatering for use on the large industrial jobs, as well as smaller residential jobs. As the world of earth drilling continues to change, so does Gus Pech Mfg. Co., Inc.
TERRITORY
• Gus Pech Mfg. Co., Inc. sells equipment throughout the United States, Canada and Mexico as well as world-wide.